Precision Garage Doors
Serving the Boise, Nampa & Meridian Areas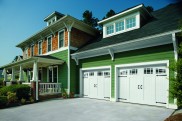 Garage doors are much more than simply large doors that are big enough to admit vehicles. They can improve your curb appeal, increase home value, and even raise your home's energy efficiency. We have outlined three steps below to help you choose the perfect garage door for your home. Find out which type of materials and styles of doors are right for you.
1. Choosing Materials
We offer a variety of choices when it comes to the materials for your garage door:
Steel
Aluminum & Glass
Custom wood
Vinyl
Fiberglass
Steel is the most durable material, and therefore it is one of the most popular styles. It does not require much maintenance; however, you can choose to paint it any color to match your home's exterior look. The steel comes in single, double, and triple layers, depending on the amount of insulation you want.
Custom wood doors are less durable but are very popular for their natural beauty.
Fiberglass doors are a great option for ocean climates and look very stylish.
Anodized aluminum and glass doors provide a clean and modern look. They also have excellent maintenance qualities and stand up well in harsh environments. Contact us for detailed information to help you decide on the right materials.
Garage door materials that offer superior insulation, like triple-layer steel, can significantly improve your home value and energy efficiency.



2. Selecting the Style
Your garage door is an important element to the exterior of your home, and it should reflect your personal style. Our design experts can help you choose a door that will fit with your home's architecture and the style of your neighborhood. The style and appearance of the garage door can have a lot of influence on your curb appeal and home value. You can choose from these styles:
Raised panel
Recessed panel
Flush panel
Carriage house
Glass and custom garage doors
We can help you design the perfect look for your home with one or several of these style components. Some styles are more subtle while some will help you create a unique impression.
How Precision Garage Doors can help you!
Evenings & Weekends Available
All Calls Answered By Live Operator 24/7
All Major Brands
Same Day Service
All Major Credit Cards
Broken garage door Cables
Broken garage door springs
Off Track Doors
Sections Replacement
Garage Door Safety
Openers & Accessories
Torsion springs
Broken or bent rollers
Bent, misaligned, or rusted track
Replacement of sections or panels
Hardware overhauls
Noisy door silencing
3. Finding the Right Company
At Precision Garage Door of Boise, we know how important it is to have a professional help you design, install, and maintain your garage door. Our goal is to provide you with great service, home value, and safety. You can expect these characteristics from our company:
Wide selection
Experienced experts
Professionalism
Flexibility
Superior warranty
Unbeatable reputation
Guaranteed quality
If you are looking for new Boise garage doors, contact us for the best-in-the-industry warranty and personal service.

View Financing Options
Precision's Average Rating





1127 Total Reviews
Don't wait on hold. Let us call you!